Do I need Ballast water treatment system?
What legislation is applicable to ballast water management and what do they state?
The United Nations recognizes the spread of aquatic invasive species as one of the four greatest threats to the world's oceans. That is why IMO Ballast Water Convention is in force since September 2017, and a ship-owner/ship operator that intends to deballast within the US, must also have a US Coast Guard compliant BWTS. What IMO states? Newbuilds will require type-approved treatment systems as of September 2017, while existing vessels will need to have them retrofitted by their first vessel renewal survey after that date. In essence, all vessels will have to install a treatment system within a period of around five years, Therefore deadline is 2022. For more information please refer to: link. What about US? The USCG Ballast Water Discharge Standard has been in force since June 2012. As of December 2013, all new vessels wishing to deballast in United States waters must comply with requirements for existing vessels following thereafter, which implies the need to deballast with a USCG certified / approved system. For more information please refer to
Why Ultra Violet technology?
UV is well known and proven technology for disinfection and neutralization of organism. UV treatment in ballast water uses ultraviolet light to inactivate organisms as they pass through a reactor, and has been the dominant technology for ballast water treatment since long before the IMO Ballast Water Management Convention entered into force. UV offers unmatched biological disinfection performance in any type of water: fresh, brackish or marine. This includes water in liquid form at frigid temperatures. Besides being able to operate in any type of water, UV system needs no salt or chemicals, even when operating in fresh water. No dosing is involved, and there are no tanks or ventilation systems needed to manage consumables or residuals, thus OPEX is one of the lowest in the market. Regarding footprint, UV technology works as an inline system in which the major components (filter and reactor) are incorporated into the ballast water piping. The reactor diameter is usally marginally larger than that of the piping itself. This creates a highly flexible system with a small footprint, which is especially important for retrofits.
What is PureBallast and why should I put my trust in Alfa Laval?
Key takeaways to consider are experience, approvals, and global support. Pureballast is the Alfa Laval´s system based on UV technology. Alfa Laval has been involved with ballast water treatment for more than a decade. The technology was developed in cooperation with Wallenius Water, is a mature system that has long been at the forefront of ballast water treatment. The original system, launched in 2006, was the very first commercially available treatment solution. PureBallast 3 is type approved by IMO for use in fresh, brackish and marine waters. For vessels that need to discharge ballast in United States waters, PureBallast 3 systems with USCG type approval are available. Standard USCG-certified systems offer the same capacities as IMO-certified systems and provide the option of minimized holding time when operating in USCG-regulated waters. The minimized holding time is just 2.5 hours and is only needed when crossing between Captain of the Port Zones. You can count on Alfa Laval expertise and resources in all phases of planning, engineering and working with your PureBallast solution. In addition to our own deep knowledge and experience, we have a worldwide network of trained and capable engineering partners. Everything you require - from feasibility studies and financing to commissioning, training and global service – is readily available. Efficiency is important! PureBallast 3 can operate at full flow even in low clarity waters. Its effectiveness is maintained by automatic Cleaning In Place (CIP), which removes UV-impairing build-up – without effort from the crew or risk of scratching the lamps.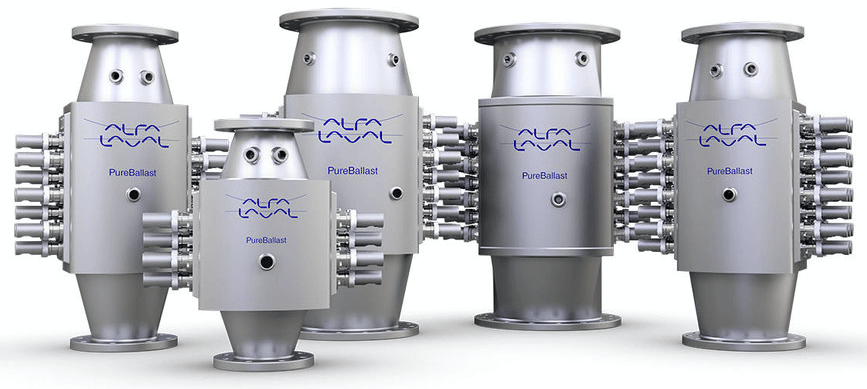 All you need to know about ballast water treatment
Select the system that fits your needs