Alfa Laval automatic separator feed pump control systems is for use in the vessel fuel treatment system. It synchronizes the flow of fuel to the separators based on actual fuel consumption, while monitoring and ensuring that the daily service tank is filled to a safe working level.
Whether your ship is slow steaming or operating at maximum speed, Alfa Laval's automatic control system FlowSync uses variable-speed pumps to match the throughput of the separator to the actual engine load and ensures that the day tank is filled to a safe working level.
Protection for your engine
The FlowSync control system adjusts the flow of fuel from the settling tank to the fuel treatment separators based on actual engine output. Only the fuel that will be used is transferred to the fuel treatment system. This means that, during slow steaming for instance, the fuel retention time in the separator bowl increases. This in turn increases the separation efficiency, enabling the removal of abrasive cat fines and providing extra engine protection.
Save more energy
Besides getting rid of hard-to-remove cat fines from the fuel oil, FlowSync delivers measurable energy savings. Rather than recirculating redundant cleaned oil from the day tank to the settling tank when ships are slow steaming, FlowSync adjusts the flow of fuel oil to the separators so it matches the oil that the engine actually requires. This eliminates the need to re-pump cleaned oil to the separators, drastically reducing energy costs.
A single control system for multiple feed pumps
Unlike other flow control systems, FlowSync is a single control system for multiple tanks, feed pumps and separators, which ensures optimization of the entire fuel treatment system. Using the intuitive Alfa Laval Touch Control panel, operators can opt to run more separators at reduced flow for maximum separation efficiency, or fewer separators for maximum energy savings.
The investment in FlowSync – whether for existing vessels or newbuilds – is minimal. Yet it maximizes the performance of your fuel treatment system and requires minimal effort from your crew.
Watch the movie fuel cleaning onboard
Interview with Niclas Dahl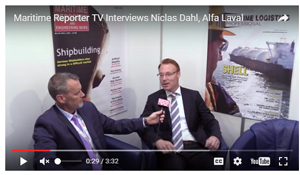 In this MarineLink interview with Niclas Dahl, Alfa Laval Marine Equipment, Niclas explains how ship owners can protect their engines and save energy by using the new Alfa Laval FlowSync.
Benefits
Increases separation efficiency and reduces cat fine levels in the cleaned fuel oil
Reduces normal fuel-related engine wear
Saves electric pumping energy when the ship is slow steaming, reducing energy costs and carbon footprint
Manages the complete separation system from a single, centralized control panel
Easy to operate
Easy to install with standardized components
Integrates easily with all fuel system layouts and configurations
Flow chart of fuel system with FlowSync automatic separator feed pump control.